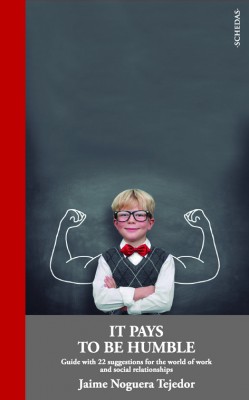 It pays to be Humble: Guide with 22 suggestions for the world of work and social relationships
7,18 € (rústica) / 3,50 € ebook (epub o kindle)
Disponible en papel encuadernado en rústica (68 páginas) y ebook, a través todas las tiendas Amazon, Kindle, Google Play y iBook de Apple.
It is easy to speak well of humility, but how does it apply?
This booklet contains a series of useful reflections to face the day to day in a company, in fact in any organization, having responsibilities as an executive or as a manager, as well as to avoid having to hide in the private sphere something that is necessarily public when you are Christian.
To handle the myths of comfort, power, responsibility, without falling into empty routines, lack of respect for people or self-deception, the book proposes ideas about what to do when you must "go down a step" and make landfall in situations of, for example, injustice, or when people are unmotivated, or to assume the globalization of markets, or to manage people, or to show respect for your own family…
Keeping in mind that honesty at work requires five things: joy, conviction, responsibility, commitment and example.
***
Jaime Noguera works as a consultant and a trainer: he advises on organization and productivity projects (human performance and sales efficiency). He has been doing so for more than twenty years. He has assumed managerial responsibilities in different companies. He is married; he has three daughters and a granddaughter. He is a permanent deacon in the archdiocese of Madrid. You can follow him on twitter at @noguera_jaime and he is happy to answer to comments, questions or suggestions at jnoguera.jnt@gmail.com.
Disclosure of Material Connection: Some of the links in the page above are "affiliate links." This means if you click on the link and purchase the item, I will receive an affiliate commission. I am disclosing this in accordance with the Federal Trade Commission's
16 CFR, Part 255
: "Guides Concerning the Use of Endorsements and Testimonials in Advertising."
Other books in"Aportes Monográficos":